Advantages
Natural gas is generally the most economical fuel for heating.
Gas heaters have Energy Rating labels to help you choose the most efficient model.
Gas heaters and efficient reverse cycle air conditioners produce only a third of the greenhouse pollution standard electric heaters produce.
Natural gas produces much less greenhouse pollution than heating with electricity.
Disadvantages
Natural gas is not available in some areas. Liquified petroleum gas (LPG) is suitable for use where natural gas is not available. However, average running costs are highly variable depending on geographical location, and can cost 2.5 to 3 times as much as natural gas.
Types of gas heaters
Gas space heaters
Gas space heaters run on natural gas are the most economical form of heating. Most gas space heaters display an Energy Rating label with 1–6 stars. The more stars, the more energy efficient the heater.
The Victorian Government is offering a rebate for high efficiency gas space heaters to Victorians in rural, regional and outer suburban areas.
Gas space heaters:
produce convective heat, radiant heat or a combination of the two
run on natural gas or liquified petroleum gas (LPG)
can be mounted on internal walls where a vertical flue can be fitted, or external walls
units are available to heat from 30 m2 up to 120 m2.
Look for:
high energy star rating (5–6 stars on the Energy Rating label)
heat outlet at floor level
electronic ignition
remote thermostat
power flue
programmable timer.
Central heating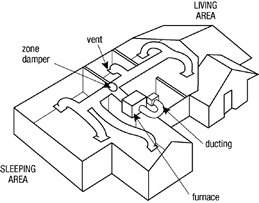 Central heating systems, such as gas ducted heaters, electric slab heating and ducted reverse cycle air conditioning are large heaters capable of heating most of your home at the one time. Central heating usually uses more energy than space heating and can be more expensive to purchase and run—as they heat larger areas than space heaters. If heating is not required in all rooms all the time, consider zoning. A zoning option allows heating to be limited to a smaller area of your home and can reduce running costs by 50%.
Ducted heating systems
are convection heaters which circulate warm air around the home through insulated ducts entering rooms through the floor or ceiling
typically run on gas, but electric reverse cycle air conditioners are also available
are able to heat areas quickly to a thermostat setting
are able to serve from 90 m2 up to 350 m2.
Look for:
high energy star rating (5–6 stars on the Energy Rating label)
well insulated ducts
zoning option
electronic ignition
thermostat with programmable timer.
Hydronic heating systems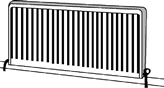 Hydronic systems are usually gas fired but can be heated by a wood fired heater, solar systems or heat pump. Solar systems can use gas or wood heating as a back-up. Hydronic heating systems provide a high degree of control, and enable all rooms to be heated independently. This can significantly lower running costs.
Look for:
low water content boiler
well insulated pipes
independent valve controls/thermostats in each room.