Air conditioners (refrigerated coolers) are the least energy efficient of all cooling systems, and have high purchase and running costs. Air conditioners provide cooling or, if they are a reverse cycle model, both heating and cooling from the one unit.
When buying a new air conditioner consider the type of air conditioner, size, and purchase and running costs. Simple energy saving measures such as closing windows and external doors can keep running costs down.
All new single phase air conditioners carry Energy Rating labels which use star ratings to help you compare the energy efficiency of different models.
The more stars, the more energy efficient and the more money you'll save. Even a one star rating can save around 10% on running costs for the most common types of air conditioners.
Types of air conditioners
The following types of air conditioners are available as cooling only or reverse cycle units.
Portable split systems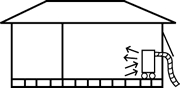 Suitable for single rooms up to 35 metres2
Average purchase cost $800-$3000
Portable split systems are generally small capacity units with separate indoor and outdoor sections connected by a flexible hose or duct through an open window.
These units can be moved from room to room and plugged into a standard power outlet. Some units can be placed in an open window so the hot coil is outside, while other types have an internal hot coil and a flexible hose which can be placed out a window or door.
Fixed (Fascia) Units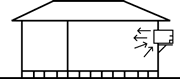 Suitable for single rooms up to 60 metres2.
Average purchase cost 500-$1600, plus installation.
Fixed units are single, box-type units mounted through an external wall or window. Small capacity units can be plugged into standard power outlets, while larger units may need to be 'wired-in'.
Split systems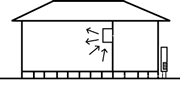 Suitable for one or more rooms up to 60 metres2
Average purchase cost $1000-$10000 (multi split system), plus installation
Split systems are fixed units with separate indoor and outdoor sections connected by refrigerant piping. Indoor units may be wall, floor or ceiling mounted. Split systems are more expensive to purchase than window/wall units but produce less room noise and are usually more energy efficient than window/wall units.
Ducted systems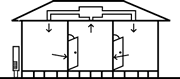 Suitable for whole house, central or zoned system.
Generally less efficient than split or fascia unit.
Average purchase cost $6000 to $12000 (includes installation)
Ducted systems should be zoned to allow cooling of different areas at different times. This can improve efficiency and reduce running costs. Your home can be divided into a day zone (living areas) and a night zone (bedrooms).